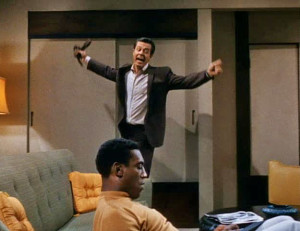 I recently learned that I Spy: The Complete Series
 is slated for release on June 24, 2014 from the folks at Shout! Factory and Timeless Media. This will be a complete box set of all three seasons of I SPY on 18 discs. Shout! Factory promises an official press release in the coming weeks with more details but the set is available for pre-order at Shout! Factory's website and from Amazon.com.
I SPY previously was released on DVD in season sets back in 2008 from Image Entertainment. The only extras included at the time were audio commentaries from Robert Culp, attached to the episodes he wrote, and used previously in a DVD release of episodes packaged by common theme. Although the Image Entertainment season sets were "newly remastered" the film was not exactly digitally remastered. The master tapes used were excellent but there are specks and dust noticeable from time to time. With 2015 marking the 50th anniversary of the show's debut, a digital remaster of the episodes would be wonderfulness.
Although I SPY fans will be wise to not set their hopes too high for new extras or digitally remastered episodes, if you're watching Shout! Factory, fans will nonetheless have some great expectations for this set.