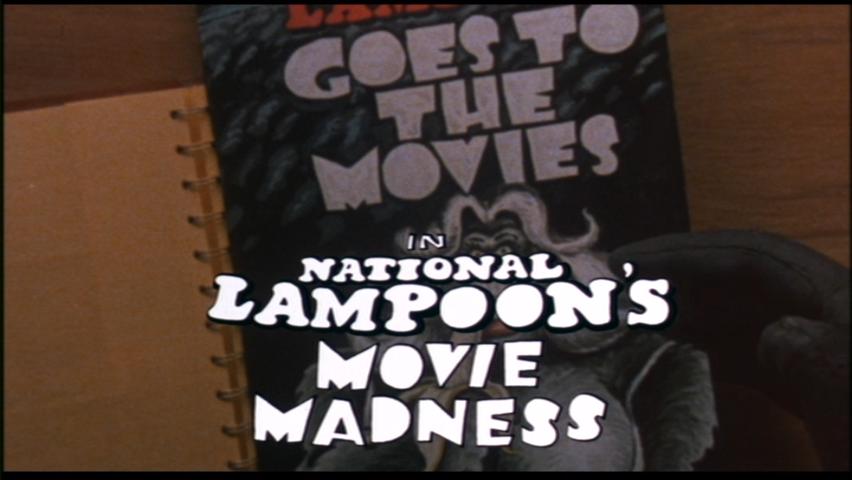 AKA National Lampoon Goes to the Movies
Originally released – straight to video – 1983
There's a reason this movie, originally filmed in 1981, went straight to video in 1983.
It sucks.
Seriously. This thing is bad. And I mean real bad. You know how sometimes a movie can be so bad it's good? No, no this is not even that. This is clearly what-the-hell-were-they-thinking-and-why-didn't-they-burn-it BAD.
The premise of the movie is to spoof other typical movie genres. There's three segments. The first segment spoofs the personal growth plotline, the second segment (with Culp) spoofs the soap opera style plotline and the third segment spoofs cop movies. I'm only going to tell you about the second segment that Culp was in and not bother with the other two because 1. Culp isn't in the other segments, 2. I didn't bother to watch the first segment at all and 3. I have no idea WHY I watched the third but there's just nothing to say for that one.
The second segment is called "Success Wanters." Ann Dusenberry plays Dominique Corsair, a recent college graduate who is trying to find a job. She's not having much luck and must lower herself to taking a job as a burlesque dancer/stripper.
Her first gig is to do a show for a bunch of geezers at a dairy convention. Yes, a dairy convention a concept of which would be ripe for tons of double entendre and innuendo and the best thing the writers could come up with for this curdled milk of a movie? A butter bang.
Please don't ask me what a butter bang is. The geezers butter bang Dominique leaving her innocence shattered and her completely humiliated. But Dominique isn't the kind of girl to stay down, oh no. She decides she's going to get her revenge against the butter bastards by switching to margarine.
She finds her way to the Everest Margarine Company, manages somehow to sneak into this bajillion floor office building and waits in the board room, in her trashed stripper costume, smoking a cigarette. Enter Paul Everest, owner and CEO of Everest Margarine Company played by Robert Culp.
Ok, I'm digging the GQ suit here and attaché. Very nice…
Dominique introduces herself and says she's been waiting for him. Mr. Everest dismisses Joyce, his secretary (who's no fool and knows exactly what's going to happen next). After Joyce leaves, Dominique says she wants to know everything there is to know about margarine. He tells her that margarine is a ruthless industry and is no place for a woman. She tells him that he's never met a woman like her and proceeds to demonstrate that fact by taking an ice cube from the ice bucket, tracing it seductively around her mouth, placing it in her mouth and then sliding under the table to crawl over to him.
Everest presses the button on his intercom to ask his secretary to hold all his calls. Gee, whatya think's gonna happen next?! I dunno! Why are they playing "Jaws" like music?!
Everest, meanwhile, is all nonchalant for a guy who knows what he's about to start his day off with. He continues with his paperwork until we hear *ziiip!* and with a deadpan expression he flicks his fancy pen across the room.
Ok, I chuckled at that. But, ya know, I would have had it that there wasn't enough clearance and she bangs her head against the table…
You still reading? Really? Ok, well I'll keep going then…