Originally released, November 8 1971 (UK), June 30, 1972 (US)
**Contains spoilers**
I mentioned previously that the moustache Robert Culp sports in the Columbo episode, "The Most Crucial Game" threw me for a bit of loop. More or less because it wasn't fake as there's footage of him from a game show appearance and a documentary from the same time period. So what was my thought of the Grizzly Adams-ish beard for Hannie Caulder?
What? That's Robert Culp? Honest, when I first saw a photo of Culp from this movie I did not recognize him. Let's pause and compare a moment here, shall we?
A mere two years or so separate the two roles, Bob in Bob & Carol & Ted & Alice, 1969 and Thomas Luther Price in our subject of this post, from 1971.  Seriously, if you didn't already know who you were looking at, would you have known that the man on the left was the same man on the right?
Robert Culp plays bounty hunter Thomas Luther Price who comes upon Raquel Welch's Hannie Caulder after Hannie has suffered rape and the murder of her husband by three outlaws (played by Ernest Borgnine, Jack Elam and Strother Martin). She wears nothing more than a blanket and carries a Winchester rifle which she points at Thomas when he inquires about wanting to get some water for himself and his horses. She says nothing to him and he figures either she doesn't understand him or she's just a wench. He's about to wave her off, literally, and with the motion of his hand he grabs the rifle from her. He empties the chamber and hands the gun back to her – his first mistake. His second mistake is turning his back on her to walk away and she promptly whacks him on the back of the head with the butt of the Winchester.
Hannie goes over to his horse and notices the dead man being carried on the other horse. She realizes Thomas is a bounty hunter and that perhaps, he can help her. She remains by him, settling him against a saddle and covering him with a blanket and waits for him to regain consciousness.
Hannie has only one thing on her mind and that's to find the three outlaws that killed her husband and raped her and kill them. Problem is, she doesn't know how to shoot a gun. Curious of her own skill she sets up some old bottles on the fence and takes Thomas's gun for some target practice.
She's a terrible shot and she's startled when the bottles and glasses start smashing off the fence suddenly. She turns to see it is Thomas. He asks for his gun back from her, which she gives him. He then back hand slaps her knocking her to the ground.
With the formalities now out of the way, more significant dialogue begins. Hannie wants to learn how to shoot a gun. Thomas figures her problem has something to do with her husband running off. It doesn't, she tells him, but she doesn't elaborate further. Thomas, not much interested in whatever problem Hannie has, declines helping her learn to shoot a gun. Even after she offers to "make it worth his while" and we're not talking cash, he still says no. He finally gets the water he wanted for himself and his horses and he saddles up and rides off.
Hannie follows him on foot. At one point he pauses, offers her a hat and his canteen. The answer as to helping her shoot a gun, however, is still no.
Hannie's persistent. When he stops to camp, she fixes and offers him a drink (I'm assuming it's coffee). He still says no.
When she's asleep, Thomas hears her cry out from her nightmare – reliving the awful rape. Knowing now what's happened, he asks her simply how many there were. She tells him and also tells how they killed her husband as well. After hearing this, Thomas decides to help her. Before they ride off, he hands her a pair of pants to put on, since all she wears is a blanket.
They ride off, their destination Mexico. Before getting there, they stop in a town for Thomas to drop off his dead outlaw and collect his bounty money. He then gives Hannie some money to go buy some boots and pants for herself, as she'd need them with the long ride ahead of them while he went to the saloon for a while.
After getting herself some pants (which were too big and she had to take a bath with them on to shrink them up) and washing Thomas's pants for him, Hannie heads over to the saloon. Thomas is playing poker with some guys and as soon as she speaks his name, one of the poker players tenses up. (No, there's no formal introductions when ya sit down to a poker game in the Old West or so I learned from watching enough Maverick episodes).
Once the poker player figures out who Thomas is, there's a tense moment at the table. Thomas still holds his playing cards in hand, the pants Hannie brought back are draped over his arm and he gently pushes Hannie back from the table. When the other poker player attempts to draw his gun, Thomas tips the table upward and shoots the other man down. The playing cards still in his hand, the pants still draped over his arm. The cards get thrown to the floor and the pants get tossed back to Hannie.
Having already dropped one dead man with a price on his head to the Sheriff earlier, Thomas carries the man he just killed over to the Sheriff to collect another bounty. Earlier, Hannie had talked to the Sheriff asking about the Clemmons brothers and the Sheriff had been a little fresh toward Hannie. Now seeing her with Thomas, who literally left the Sheriff shaking in his boots, the Sheriff's attitude is all conciliatory.
Having done their part to clean up the town, Thomas and Hannie ride out to Mexico. On the way there, he tells her a little about the gunsmith they're going to see.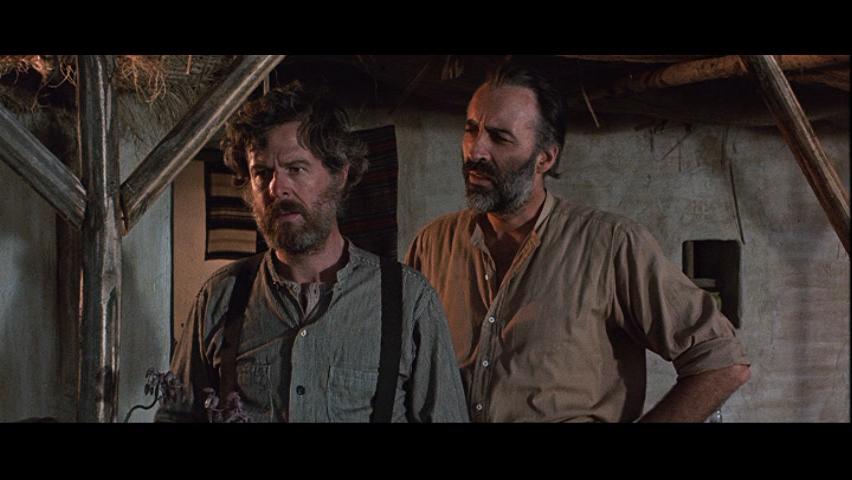 In Mexico, Hannie meets Bailey who will craft a gun for her special. While Bailey is crafting the gun, Thomas has Hannie do some exercises to build up the strength in her hands and arms for handling the piece. There's also a hesitant attraction budding between Thomas and Hannie which shows as Thomas watches Hannie playing with Bailey's kids on the beach.
Finally, the gun is ready and Bailey presents it to Hannie. Immediately she learns rule number one: Don't ever pull the trigger unless you're aiming at something, even if the gun is empty.
And so begins the lessons to learn how to shoot. Thomas is a serious instructor, a reminder of the fact that what he's teaching is Hannie is serious, life and death stuff. It is not to be taken lightly.
We have a break in the lessons for another tender moment, as the two walk along the beach. This is about as romantic as the movie allows, considering its subject matter. It's also the only change of wardrobe for Hannie, other than what we see her in when she first appears on the screen. This is significant, as Hannie has suffered from a brutal act by a man (three men in her particular case) but appears willing to trust Thomas and still desires to feel like a woman. Earlier in the film, when Thomas and Bailey are talking about her, Thomas says that "she wants to be a man." Bailey responds that she'll never make it. Despite the revenge she seeks, she's still a woman and taking Thomas by the hand, is the reminder of that.
The next scene is Hannie watching Thomas on the beach, goofing around with Bailey's kids for a bit. The tranquil moment doesn't last long, however, as a group of a Mexican bandits ride up to Bailey's place. Thomas puts his gun belt on and tells the kids to scoot back to the house. He then makes his way carefully up the beach to the house and tells Hannie one word, "Winchester."
While Bailey is talking to the leader of the pack, Hannie gets the Winchester rifle and Thomas takes up a position near one of the open doorways. Several bandits have spread out to surround the house. The situation doesn't look good.
It's not long before a shootout ensues. The Winchester ends up with Bailey and with Hannie and Thomas it helps even up the odds. But at one point when Hannie is face to face with one of the gun men she shoots to wound. When the gun man continues to approach her, likely to shoot, Thomas is yelling for her shoot again. But she can't do it. Thomas shoots the man down and can only shake his head for Hannie.
After this, Hannie and Thomas take their leave and ride back into the US to track down the Clemmons brothers. They stop in a town and learn that the Clemmons were expected in town that day. At the hotel, Thomas tries to convince Hannie to give up the whole thing but she won't. Or rather, she can't, as she tells him. They have a falling out and Hannie hands Thomas his hat, telling him to leave, that she doesn't need him anymore. Thomas tells her she's a terrible liar and leaves the room. Hannie knows he's right.
Outside of the hotel Thomas doesn't get on his horse and just ride away. He hangs around, watching the town, drinking his liquor. He then sees the Clemmons brothers ride into town. Two of them head for the saloon while one, Frank, goes to the bathhouse.
With Frank's wanted poster in hand, Thomas crosses the street and confronts Frank after he exits the bathhouse. Before he can walk Frank over to the Sheriff's office, the other two brothers come out of the saloon up the street and see what's going on. Frank turns to look which prompts Thomas to turn, gun in hand to fire at the two brothers at the saloon door. One of the brothers throws a knife at Thomas…and hits him directly in the abdomen.
Hannie witnesses the whole thing from the hotel window and rushes across the street to where Thomas has collapsed on the boardwalk. He's still alive and asks Hannie to get him out of there. Some townsmen carry Thomas back to the hotel.
In the hotel room it's only a matter of time. Thomas's wound is fatal. She tells him that he was right, about her being a rotten liar. He says she's rotten with a gun too. With his strength fading quickly, he warns her that they (the Clemmons) would kill her and asks her to promise him…something. He never finishes what he's saying. The best guess is he was to ask her to promise not to get killed. Or he was going to ask her to promise not to go through the damn thing at all.
From this point, Hannie sets out to finish off the Clemmons brothers.  Up first is Frank, who Hannie finds over at the saloon, up stairs. He's blown away out the window. Following him is Rufus, who catches her in a store in town and he in turn catches a couple of bullets from Hannie.
The final showdown between Hannie and Emmett happens at an old abandoned prison. She gets Emmett with a little help from the gunman who had crossed paths with Hannie a couple of times before in the film. The first is when he shows up at Bailey's to have his gun repaired and then later, when Thomas and Hannie ride back from Mexico they pass the old prison, where the gunman apparently has been hiding out.
"Win or lose…you lose, Hannie Caulder."
Culp's Thomas Luther Price is an interesting character. A man with a distinct code of honor, one that doesn't really advise on teaching a woman how to shoot a gun. And yet, knowing what happened to Hannie he can't help but want to help her to find justice. He knows the path of revenge that she's on she will never be the same afterwards. He tells her this, as a warning. But Hannie is too bent on the destruction of the Clemmons brothers to understand just exactly what Thomas means. Killing another human being involves a terrible change in psychology and thought process. A fine line that, once crossed, you don't ever go back and act like it never happened. Hannie may find some satisfaction in taking the brothers down, but in the end, as Thomas tells her, she loses.
I think he tried to save her from this when he attempted to haul Frank in to the Sheriff's office. He may have even figured to take all three men down himself but I'm not sure Hannie would have forgiven him for that. At least, not right away.
Culp's attire in this film I also found interesting. The knee high moccasin leg wraps (I don't know what else to call them as they're not boots and they're not chaps. They're somewhere in between) added a unique look and the beard, of course, along with the glasses made him nearly unrecognizable.
Raquel Welch does a fine job as Hannie. I can't help but find it amusing though that the promotional material for this movie show her much more scantily clad than we see in the film.
What I really wish I could find is a larger, clearer version of the photo below! I found this on a lark while searching for the above photos of Raquel. The only thing is, I think it's a splice of two different photos of Culp and Welch, because she looks similar in stance as to the b&w photo of her above.
One final note here. Ernest Borgnine, Jack Elam and Strother Martin as the Clemmons brothers are three of the most disgusting, foulest, meanest, nastiest outlaws I've ever seen in a western. They're also the stupidest as they blow several robbery attempts through the course of this movie. Strother Martin gets extra points for being obnoxiously whiny.  The best thing that could have happened to them was for Hannie to shoot them all down and take them out of their collective misery.
"Hannie Caulder" is available on DVD and as a digital download through Amazon.com.