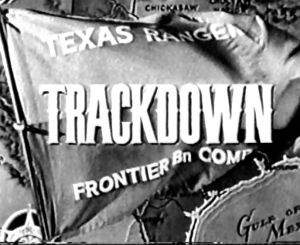 TRACKDOWN premiered October 4, 1957 on CBS. This was Robert Culp's first television series, which ran until 1959 and produced 70 episodes. Culp himself wrote the script for one episode, "Back to Crawford," which ran toward the end of the final season.
TRACKDOWN was set in Texas in the 1870s and starred Culp as Texas Ranger Hoby Gilman. The series initially started off like an anthology series, with Gilman working cases and tracking down various fugitives and outlaws throughout Texas and being in a different town or location every week. Eventually, Gilman was centered in the town of Porter, Texas to act as the de facto sheriff for the town after their sheriff was killed and the show settled in to more of a serial format (although there were still episodes set outside of Porter, when Gilman would have to leave town to deal with some outlaw or problem).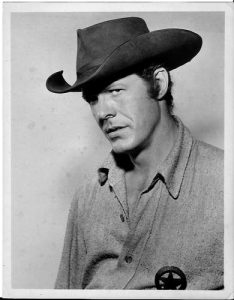 Considered an adult western, the series touched on various subjects that went beyond the usual bank robbing and cattle rustling storylines of a typical western.
Critics were kind of "meh" about the show, more or less because by this point the television landscape was overrun with westerns. However, Culp stood out, even among the most critical of TV reviewers who often lamented that Culp's talents were being wasted with some of the scripts of the show. Nonetheless, the show had a fairly successful two season run and gave Robert Culp the recognition to go on to a successful television and film career.
Oh, there was one tidbit of controversy however…the way Hoby Gilman walked. 
The walk, described as kind of a "slouch-stroll" was the signature of Culp's cool cowboy persona of Hoby Gilman and it caused a bit of a stir. Considering the times, with Elvis being barred from being seen on television accept only from the waist up a year earlier, good lord now we've got this tall, lean good looking cowboy sashaying across the TV screen?! The walk got plenty of attention both good (by the start of the second season, Culp was reportedly receiving some 3000 fan letters a month) and bad (some sponsors of the show threatened to boycott if he didn't "tone it down."). Eventually, the controversy blew over but "the walk" remains immortalized within the episodes of TRACKDOWN.
Currently, you can catch TRACKDOWN on Saturday mornings on Me-TV at 8am EST where you can watch Hoby Gilman walk "the walk." The series does not have a formal DVD release as of yet, but we're keeping our fingers crossed for CBS Home Entertainment to release a set sometime soon.
Check out Topp's TV Westerns Trading Card Set – Trackdown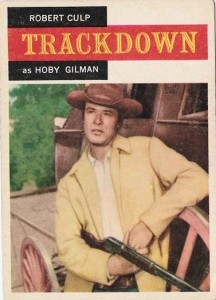 Season One
The Marple Brothers
Law in Lampasas
The San Saba Incident
Easton, Texas
Like Father
Sweetwater, Texas
Alpine, Texas
Self-Defense
End of an Outlaw
Look for the Woman
The Town
Man and Money
The Reward
The Farrand Story
Right of Way
The Witness
The Toll Road
The Young Gun
The Wedding
The Trail
The Bounty Hunter
The Judge
The House
The Boy
The Pueblo Kid
The Winter Boys
The Mistake
The Deal
The Jailbreak
The End of the World
The Brothers
The Governor
Season Two
Killer Take All
Outlaw's Wife
Chinese Cowboy
The Set Up
A Stone for Benny French
Trapped
Matter of Justice
Tenner Smith
The Avenger
The Schoolteacher
Deadly Decoy
Sunday's Child
Day of Vengeance
Three-Legged Fox
The Kid
Guilt
Every Man a Witness
McCallin's Daughter
Bad Judgment
Terror
The Feud
The Samaritan
The Gang
The Threat
Hard Lines
Fear
Stranger in Town
The Protector
False Witness
The Trick
The Eyes of Jerry Kelso
Gift Horse
The Vote
The Unwanted
Toss Up
The Inquest
Back to Crawford (written by Robert Culp)
Blind Alley
Quiet Night in Porter