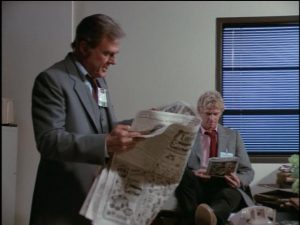 I didn't start mining through the Google newspaper archive until I was doing research for the movie A Name for Evil and now I find myself getting lost looking back through old newspapers. (I'm a history buff anyway).  Subsequently, I've been digging through looking for whatever I can for whatever Robert Culp movie or TV show I'm writing about next but since I only just started doing this, movies such as Inside Out (and Hannie Caulder) missed out initially.
So, I did a little searching around and found a couple of interesting tidbits for Inside Out. The first being a note in one of Marilyn Beck's columns from March 19, 1975, saying that Robert Culp took part in a tennis tournament in Berlin during filming of Inside Out. The tournament, held annually, was called "The Divided City Tennis Competition" and Culp's partner was a US Consul and career CIA political officer, Merron L. Latta. Culp and Mr. Latta defeated their French opponents 9 – 6.
Another tidbit involved not Culp, but Telly Savalas, who endured tabloid garbage from the Daily Mail alleging that during filming he partied all night until 4am, didn't remember his lines and kept his co-star (James Mason) waiting.  Savalas filed a libel suit against the Daily Mail and a year later won, to the tune of $56,700.
Mason, for his part, defended Savalas and paid him compliment in court, talking about how inexperienced people tend to put too much emphasis on learning just the lines, while actors like Savalas exercise a little more creativity with the words and dialogue.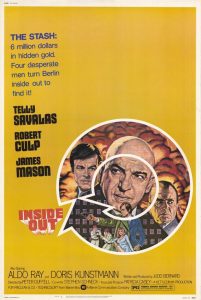 Nowhere in any of the articles I found relating to this was there any comment or quote from Culp, who I imagine kept otherwise busy with the tennis tournament and stayed the hell out of  Savalas's legal issue.
And, of course, I found a few reviews of the movie.  Michael Marzella, a staff writer for the St. Petersburg (Florida) Times panned the movie in February of 1976 calling it "dull" and "hollow trash." He went further to say that after seeing the movie "any jury in the land would convict (the) actors of attempted suspense and recommend no mercy."  For Culp specifically, he noted, "Culp smiles very nicely and usually remembers his lines."
Ouch. Perhaps Mr. Marzella was just having a bad day?
Another reviewer, Jim Moorhead of The (St. Petersburg, FL ) Evening Independent wasn't quite as harsh in February of '76, but he lamented the films' lack of a clever plot. Despite various faults he found with the movie (the lack of using actual German or Russian dialogue in the scenes involving Germans and/or Russians) he did say the film is "a diverting and amusing evening's entertainment."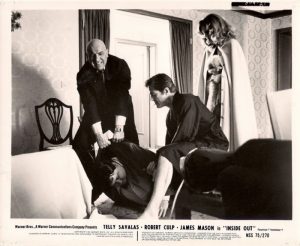 And the last tidbit I found comes from the North Island Gazette of Port Hardy, British Columbia, where the film was screened in the 16mm format fairly early in the film's release period (March/April, 1976) due to Warner Brothers apparently deciding not to release Inside Out in the 35mm market. This was apparently significant at the time and the Port Hardy screening was only the second such screening of the movie throughout all of British Columbia (after Vancouver). I'm not all that well versed on the technical aspects of the film world at that time, the difference between American and Canadian releases, nor do I fully understand what the difference is between the 16mm and 35mm market – other than the 16mm was usually screened much later after a film's release, according to the article. But apparently this was a "minor coup" at the time for 16mm markets. If anyone can comment further on this, please do as I'll admit I'm curious. The article can be read here.
And one final note, from the same Port Hardy article, while the two reviewers in Florida panned the film, Canadian film critic Michael Walsh described Inside Out as "a completely compentent caper film." I certainly enjoyed the film and you can check out screen caps and my overview here.